Coral Springs
Welcome to A Star HVAC Solutions in Coral Springs, the premier provider of air conditioning services in Coral Springs and its surrounding areas. We aim to keep your home and office comfortable and cool throughout the warmer months. Into the fall and winter, we provide a full range of HVAC services, including AC repair, installation, maintenance, and air duct cleaning.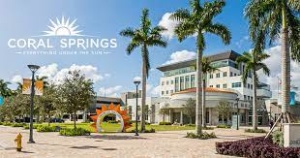 Service Areas in Coral Springs
Our services are available in the following surrounding areas:
Downtown Coral Springs

North Springs

Westchester

Ramble wood

Maplewood

Coral Creek

Wyndham Lakes

Eagle Trace

Heron Bay

Whispering Woods
If you reside in Coral Springs or any neighboring areas and require our services, please don't hesitate to contact us. We are here to assist you.
 We here at A Star HVAC Solutions know what a pain it is to have a broken air conditioner, especially in the hot heat of Coral Springs. When you have an issue with your air conditioner, our skilled technicians will quickly and accurately identify and fix the problem. To quickly restore your comfort, we offer emergency repair services around the clock.
Regarding AC installation in Coral Springs, you can rely on A Star HVAC Solutions. We specialize in installing high-quality, energy-efficient AC systems tailored to your needs. Our staff will help you choose an air conditioner for your home and your budget.
 Regular AC maintenance is crucial for optimal system performance and energy efficiency. Our HVAC maintenance services in Coral Springs include thorough checks, cleaning, and adjustments to keep your air conditioner in tip-top shape. To save you money on future repairs, our professionals will quickly diagnose any problems and offer lasting fixes.
Clean air ducts are essential for maintaining healthy indoor air quality. Our air duct cleaning services in Coral Springs are designed to remove dust, allergens, and other contaminants from your ductwork, improving air circulation and reducing the risk of respiratory problems. With our advanced equipment and skilled technicians, we'll ensure your air ducts are thoroughly cleaned.
Contact Us Today
Here at A Star  HVAC Solutions, we're proud to have earned the trust of residents. If you're interested in our services and would like a price quote or to set up an appointment, please contact us immediately. In Coral Springs, you can count on a team of professionals committed to ensuring your complete satisfaction.