Pool Heat Pumps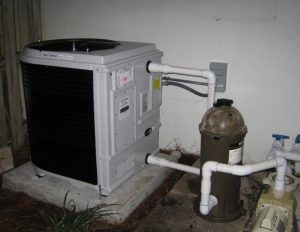 Is your pool heater not working properly?
-We service all makes of gas-fired and electrical Pool Heaters. All our repairs are covered by a full 1 Year warranty.
Your pool heater may be under warranty?
-No problem. If your system is under factory warranty we can order the part with the factory and replace it for you.
Need to replace your pool heater or install a new one?
-We proudly install the highest efficiency pool heaters in the market. We handle the complete installation from start to finish. Our pool heaters come with:
A lifetime warranty on the heat exchanger.
5-year warranty on the compressor
Up to 5-year warranty on parts and labor
High efficiencies as low as $2/day to heat your pool*.
Choice of brands Rheem, Raypack, Heat Syphon, Gulfsream and many more..
Why isn't your pool warm enough in the cooler days?
-A swimming pool holds a lot of water and that water takes a while to heat. Normally you want to turn on the pool heater 6-12 hours prior to using the pool or 24 hours prior if temperature below 60. If you are turning the pool heater on for more than 24 hours and the pool simply does not warm up, the problem may be your heater is not strong enough or has lost its heating capacity. Or, your heater may simply be malfunctioning. Turn the power to the unit off, open all the water valves and turn on the unit again. If you are experiencing the same problem than you may need the help of a technician to troubleshoot the problem. Our technicians are available 7 days a week to service your unit.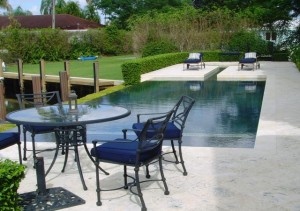 "To repair or to replace?" that is the question
-Repairing or replacing your system depends on a few factors:
· Age of the system
· Condition of the system or operating costs
· How long you plan to stay in your home or building
· Your financial budget
· Nature of the repair
· Your comfort preferences
Geothermal pool heating…it can save you a lot of money!
-Indeed geothermal is simply the concept of capturing the earth's energy and using it to heat or cool your space. Since the earth's temperature remains constant it is a very efficient way to condition a building. Other geothermal applications include pool heating and hot water heating. We are proud to offer the WaterFurnace products, the most reliable and efficient in the market. Every WaterFurnace® Envision Series pool heater must pass strict computer-controlled run test and quality standards during manufacturing. Pool heat pumps are designed to last nearly twice as long as traditional gas pool heaters. With more than 20 years in the design and manufacture of the highest quality geothermal systems on the market, legendary WaterFurnace® quality is now available to heat your pool without an earth loop. Every unit is backed by a 10-year limited warranty. Higher efficiency also means less electricity is required to condition your pool.
If you have more questions and you need to speak to an associate, call us at (954) 761-2600.
We will be happy to assist you. We service all Broward, Miami and Palm Beach counties.