Duct Cleaning Fort Lauderdale, FL
Air Duct Cleaning Fort Lauderdale| A Star Air Conditioning
Air ducts play a crucial role in maintaining indoor air quality and temperature. Over time, dust, dirt, allergens, and other debris can accumulate in your air ducts, reducing the efficiency of your HVAC system and leading to poor air quality. Regular air duct cleaning is essential to ensure that your HVAC system is functioning optimally and to maintain good indoor air quality.
At A Star Air Conditioning, we provide reliable air duct cleaning services for residential and commercial properties in Fort Lauderdale and surrounding areas. Our experienced technicians use the latest equipment and techniques to clean your air ducts thoroughly, ensuring that your HVAC system is running efficiently, and your indoor air quality is improved.
Why hire us to clean your ducts and vents? – There are a few reasons why: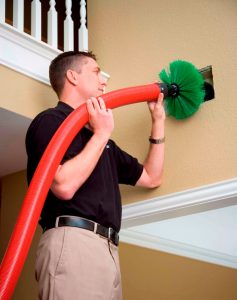 We use a high powered HEPA vacuum which is necessary to remove and trap particles (HEPA filters meet efficiencies of 99.7% and can catch particles of .3 micron-size of cigarette smoke).
All the vents are cleaned by washing them and removing mold and mildew build up.
The evaporator coils and air handlers also are cleaned since they are connected to the ducts and work as one system.
Finally an organic non-toxic sanitizer will be applied to the ducts and air handler.
How do you know your ducts may be dirty? – Usually there are many signs that show you your ducts are dirty.
Dirt on the air vents
Odors or mildew smell
Recent construction or renovation work
Constant dust on the furniture or floor
Can dirty ducts make your allergies worse? – If you suffer from allergies or your house feels stuffy the problem may be bacteria and pollutants growing in your air conditioner or duct system.
How about unwanted odors how can they go away? – If you experience unwanted odors in your building the problem may be mildew, mold or bacteria growth in your system. Dirty coils can be perfect environment for all of the above pollutants to grow.
Can the cleaning process damage the duct work? – We use the Rotobrush® duct cleaning system. Rotobrush® uses a soft rotating brush in combination with a high power HEPA vacuum. This combination allows for the ducts to be cleaned effectively without damage to the duct interior.
So you cleaned your ducts, how long does that last? – It depends on the quality of your air filter and how well you maintain it.
A basic1 inch filter that you replace every month can trap only 20-30% of airborne pollutants in your air. It should be replaced twice a month to have a maximum cleaning effect. A better quality filter such as pleated or dust-lock can trap up to 80% of airborne pollutants. Higher efficiency filters such as media or electronic can trap or eliminate up to 98% of airborne pollutants and require less maintenance. It's wise to invest on a high quality filter after you clean your ductwork. It will maintain the air clean inside your building and keep your ductwork clean for years to come.

Can a drier machine catch fire if the vent is dirty? – Although that's very rare, what a dirty drier vent will do is make you drier machine run all the time and your clothes will not dry properly. Manufacturers recommend that drier vents should be inspected and cleaned at least every 2 years.
Call us at (800) 454-0987 for a free estimate or if you have questions and you need to speak to an associate. 
We will be happy to assist you. 
We service all Broward, Miami and Palm Beach counties.
Our Services Area: