Daikin Air Conditioners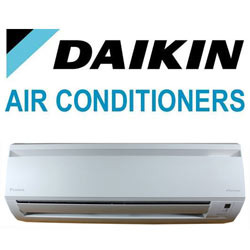 A Star Air Conditioning, one of the best Fort Lauderdale air conditioning companies, provides warrantied, reliable and quick repairs on air conditioning units manufactured by all of the top names in the industry, including Daikin air conditioners. Daikin, a Japanese company, has become one of the world's largest HVAC companies. Daikin acquired Goodman Air Conditioning in recent years.
The experienced and knowledgeable technicians of A Star Air Conditioning, one of the best Fort Lauderdale AC repair businesses, repair air conditioning units produced by all of the best manufacturers including Daikin, Trane, Carrier, Ruud, LG and Rheem. The company's technicians perform air conditioning repairs across South Florida. If your Fort Lauderdale AC unit has stopped working, or if it does not cool down your home as well as it used to do, call A Star Air Conditioning at (954) 761-2600 to schedule a service call. We also perform emergency repairs when necessary. Consumers and business locations like supermarkets, convenience stores, grocery stores, retail locations, hospitals, doctors' offices and restaurants can also reach our business by calling 1 (800) 454-0987.
We perform emergency repairs on all types of air conditioning units, as well as walk-in coolers, refrigeration units and ventilation systems in Palm Beach County, Broward County and Miami-Dade County. If customers have problems with these systems after regular business hours, they do not necessarily have to wait until the next business day for repair service. Call us in the evening, during weekends or on holidays, and we will do whatever we can to provide you with fast, effective and reliable repair services.