Goodman Air Conditioners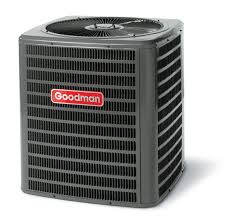 One of the largest manufacturers of air conditioning and heating units in the United States, Goodman Global remains one of the top names in the HVAC business. A Star Air Conditioning repairs and services Goodman air conditioners across South Florida, providing warrantied Fort Lauderdale AC repair services, Broward AC repair services, Miami AC repair services and Palm Beach AC repair services for residential customers and commercial customers across the region. If you need Broward Goodman air conditioner repairs, Miami Goodman air conditioner repairs or Palm Beach Goodman air conditioner repairs, call A Star Air Conditioning at (954) 761-2600 to schedule a service call, or customers can call 1 (800) 454-0987 for repairs.
A Star Air Conditioning also offers emergency repair services for Goodman air conditioners and AC units produced by other manufacturers. Whether the AC repair Fort Lauderdale technicians of A Star Air Conditioning perform repairs for customers during regular business hours, on weekends, on holidays or after normal business hours, the company warranties all repairs it performs, so customers can feel confident in the company's workmanship and integrity.
Goodman, founded in 1975 and based in Houston, Tex. began manufacturing HVAC products in 1982. Through acquisitions, the company became one of the top American HVAC companies by the late-1990s. In 2012, the company became a part of Daikin.
If you need repairs on your Goodman air conditioning unit, contact the leading Fort Lauderdale air conditioning repair experts of A Star Air Conditioning. The company will provide customers with free estimates for major repairs.