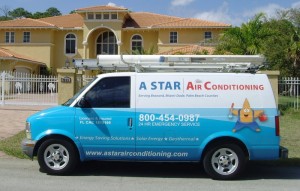 Keep yourself cool and comfortable no matter the time of year with proper maintenance of your home air conditioning unit. Change the air filter on your AC unit regularly to keep it running smoothly. However, even with proper maintenance, your AC unit may require the services of trained technicians to get it running the way it should every so often. If your AC unit does not work anymore, or does not work like it should, call the experts in home AC repair Fort Lauderdale. Call A Star Air Conditioning, a family-owned and operated Fort Lauderdale air conditioning company. This licensed and insured, full-service Broward air conditioning company offers solutions for all of your residential and commercial heating, cooling, ventilation and refrigeration needs.
Offering responsive 24-hour a day emergency service for all your AC needs, A Star Air Conditioning has become the air conditioning repair Fort Lauderdale company that homeowners, business owners, restaurateurs and others trust when they need service quickly. When the air conditioner goes out, it can cause major frustrations and headaches for business owners and residents. Not only does the AC unit keep the temperature cool, but it circulates the air in a building. Customers often do not want to eat or shop in a building without AC, which can mean lost revenue for business owners when the AC stops working. If you need quick air conditioning repair Broward services, call A Star Air Conditioning at (954) 761-2600 or 1 (800) 454-0987.
Call A Star for any of your home AC repair Broward needs. The company offers a one-year warranty on all repairs.