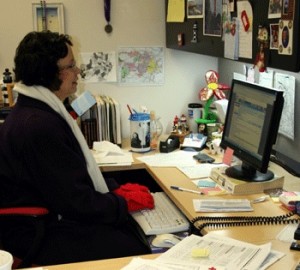 Finally the high temperatures of the summer are now moving into the cooler temperatures of the winter. Florida winters are not exactly as intense as those in the north. Even so, temperatures can drop significantly. And you should prepare your office HVAC system for the cooler weather.
First, schedule a tune-up for your air conditioner and heat pump. A regular maintenance check can ensure that your heating system is running properly. When your heating system is running at top efficient you can keep your office at a more even heat. This makes the room a more comfortable environment for your staff.
Purchase a backup generator for extreme weather. As the climate changes from summer to fall there can be stormy weather and severe thunderstorms. It is a good idea to purchase a generator for this type of weather. Generators are a great investment for your office and production safety.
Finally, have your ductwork checked for leaks. Leaky ducts can cost you a lot of money in wasted energy. Faulty ductwork also puts an extra strain on your heating system. Have your ductwork checked for leaks and damage before the winter season begins.
A Star Air Conditioning provides certified air conditioning technicians to service all makes and models of AC units. Fort Lauderdale air conditioning experts are quick and efficient when repairing residential, commercial and industrial AC systems. Expertly trained AC technicians have the knowledge and diagnostic tools to keep your unit running flawlessly.
Different people enjoy different temperatures when indoors and cold weather can slow down production in your office. Fortunately, A Star offers fast, reliable response and stands behind their guarantee for quality AC repair in Broward. You will easily enjoy the indoor comfort of your place of business during the upcoming winter climates.
Keep every one satisfied this winter and schedule a tune-up for your air conditioning unit with A Star.